Posts for: February, 2019
By Marianna M. Detwiler, DDS
February 13, 2019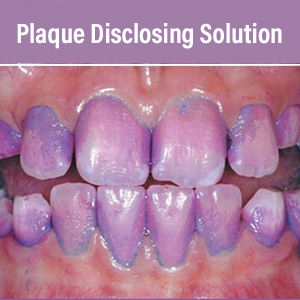 Brushing and flossing your teeth provides a lot of benefits, including a brighter smile and fresher breath. But the primary benefit—and ultimate goal—is removing dental plaque. This biofilm of bacteria and food remnants on tooth and gum surfaces is the number one cause for dental disease.
Brushing and flossing can effectively keep plaque under control. Unfortunately, plaque can be a stubborn foe, hiding in areas easily missed if you're not thorough enough.
So how do you know you're doing a good job brushing and flossing? One quick way is to use your tongue or dental floss to feel for any grittiness, a possible sign of remaining plaque. Ultimately, your dentist or hygienist can give you the best evaluation of your hygiene efforts during your three or six-month checkup.
But there's another way to find out more definitively how well you're removing plaque in between dental visits: a plaque disclosing agent. These over-the-counter products contain a dye solution that stains plaque so it stands out from clean tooth surfaces.
A disclosing agent, which can come in the form of tablets, swabs or a liquid, is easy to use. After brushing and flossing, you apply the agent according to the product's directions. The dye reacts with plaque to stain it a distinct color. You may also find products with two-tone dyes that stain older and newer plaque different colors to better gauge your overall effectiveness.
You then examine your teeth in the bathroom mirror, looking especially for patterns of missed plaque. For example, if you see dyed plaque running along the gum line, you'll know you need to concentrate your hygiene there.
After observing what you can do to improve your future efforts, you can then brush and floss your teeth to remove as much of the dyed plaque as you can. The staining from the dye is temporary and any remaining will fade over a few hours.
Using a disclosing agent regularly could help you improve your overall hygiene technique and reduce your risk of disease. Ask your dentist for recommendations on products.
If you would like more information on improving your oral hygiene, please contact us or schedule an appointment for a consultation. You can also learn more about this topic by reading the Dear Doctor magazine article "Plaque Disclosing Agents."
By Marianna M. Detwiler, DDS
February 03, 2019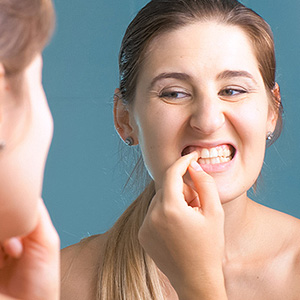 If you're over 30 your chances for developing periodontal (gum) disease are better than half. And it's not a minor matter—untreated gum disease can lead not only to tooth loss, but to an increased risk of cardiovascular disease and other inflammatory conditions.
Fortunately, we have effective ways to treat gum disease, even in advanced stages. But the best approach by far in avoiding a devastating outcome for your teeth is to prevent gum disease from developing in the first place.
It helps first to know how gum disease begins. The most common cause is dental plaque, a thin biofilm of food particles on tooth surfaces that harbors the bacteria that triggers the disease. If you keep your teeth clean of built-up plaque and tartar (calcified plaque) with daily brushing and flossing and regular dental cleanings, you'll minimize the growth of disease-causing bacteria.
If you don't practice effective oral hygiene, however, within a few days you could develop an initial infection called gingivitis. This form affects the outermost layers of the gums and triggers a defensive response from the body known as inflammation. Ordinarily, inflammation helps protect surrounding tissues from infection spread, but it can damage your gums if it becomes chronic. Your weakened gums may begin to detach from the teeth, forming voids filled with inflammation known as periodontal pockets. Eventually, the infection can spread to the supporting bone and lead to tooth loss.
In addition to a dedicated oral hygiene and dental care program, you should also be on the lookout for early signs of gingivitis. Infected gums can become red, swollen and tender to the touch. You may notice they bleed easily while brushing and flossing, or a foul taste or breath that won't go away even after brushing. And if some of your teeth feel loose or don't seem to bite together as they used to, this is a sign of advanced gum disease that deserves your dentist's immediate attention.
Practicing preventive hygiene is the best way to stop gum disease before it starts. But if gum disease does happen, catching it early can be a game-changer, both for your teeth and your smile.
If you would like more information on preventing and treating gum disease, please contact us or schedule an appointment for a consultation. You can also learn more about this topic by reading the Dear Doctor magazine article "How Gum Disease Gets Started."